Hello experts,
I am trying to run a small simulation, as a test, with O2DPG, but I am not able to.
At first I was getting:
[942672:internal-dpl-ccdb-backend]: [13:16:25][WARN] CCDB: Did not find an alien token; Cannot serve objects located on alien://
[942672:internal-dpl-ccdb-backend]: [13:16:25][FATAL] Unable to find object CTP/Calib/OrbitReset/1652361029816
so I create the token, but then the simulation just freezes at some point, without throwing any error (or at least none I couldn't find it).
Bellow a screenshot of where it freezes (simulation from scratch) and one from the bksim.log: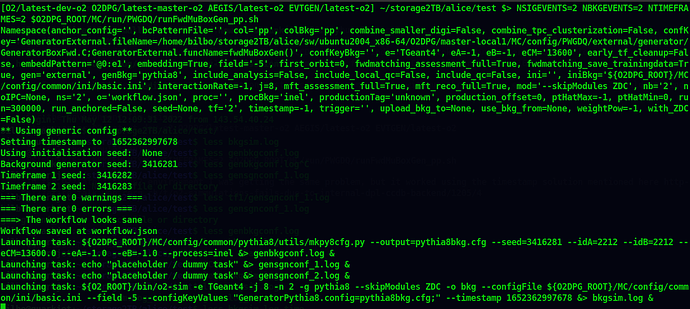 For the environment I'm using:
alienv enter O2/latest-dev-o2 O2DPG/latest-master-o2 AEGIS/latest-o2 EVTGEN/latest-o2
and for the simulation:
NSIGEVENTS=2 NBKGEVENTS=2 NTIMEFRAMES=2 $O2DPG_ROOT/MC/run/PWGDQ/runFwdMuBoxGen_pp.sh
In the O2/latest-dev-o2 environment I was getting the same problem on another simulation, but it worked using the timestamp solution mentioned here.
Any suggestion is greatly appreciated.
Cheers,
Lucas.