I noticed that o2-sim is resulting in several copies of the o2sim tree in o2sim.root. Each event creates a new tree. For 30 events I get this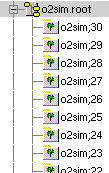 The file grows exponentially with the number of events since each new copy of the tree contains not only data from one event, but all previous ones.
This happens only when running o2-sim but not for o2-sim-serial. Looks like a bug in the Merger process.